We are running one of our highly successful men's emotional process work weekends as a residential retreat at Hazel Hill Wood near Salisbury from Friday July 5 to Sunday July 7, 2019.
Men and women alike have a natural connection to the natural world. We know that being in Nature causes a reduction in stress, an increased sense of well-being, a clearer mind, and generates greater creativity. We have seen how it facilitates our personal development. We know that forest, earth, and the land, are the ideal places to spend time when we're stressed or looking for clarity. We know that this is our natural home. And we know it is calling us.
The truth is, being in Nature switches us into a more primal frame of mind, with closer connection to ourselves, each other, and Mother Earth.
Do you feel the call? For peace, reflection, community, and personal growth? A weekend you can call your own?
This is an opportunity to share your soul with a group of like-minded men in the safety and security of the woods. Over the course of a weekend, we will build our group into a close-knit community of men where we will have the opportunity to share stories, talk about what it means to be a man and the challenges we face, and do our personal emotional process work on the emotional issues which call for attention. We will meet around the fire, bathe in the hot tub under the stars, sleep in the open if we wish (or in comfortable wooden cabins if we prefer!) and eat good quality food prepared with love.
H
azel Hill is an ancient woodland site, meaning that this land has been wooded for centuries. Species like bluebell and holly are evidence of this history. Hazel Hill Wood is now lovingly managed as a conservation woodland, and has been designated as a Local Wildlife Site. It has a high diversity of wildflowers, trees and fungi, providing a variety of landscapes and habitats.
The Heartwood
The Heartwood in the middle of Hazel Hill is a cathedral-like area of mature Beech and Scots Pine, with masses of bluebells in Spring. The eastern side has both large and young hornbeam, along with areas of mixed hardwood (such as oak, ash, beech) planted over the past twenty years.
The Wild West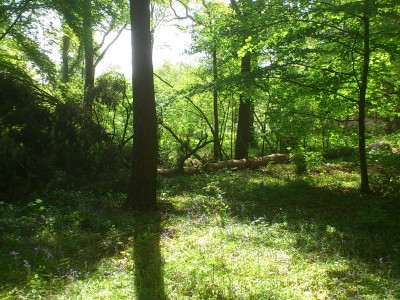 The wilder west end has some areas of magnificent oak trees, still young adults at 90 years old, along with areas of birch and hazel. This area includes some of our 12 acre designated nature reserve and is home to many rare species. The wood has a rich variety of wildlife, including many bird species, three types of deer, and butterflies such as the pearl-bordered fritillary and argent sable moth.
Many rides have been widened to encourage wildflowers and woodland shrubs like hawthorn and spindle.  This adds valuable habitat diversity as do the ponds, wetlands and open spaces. Next to the wood, by the entrance track, is a 5 acre meadow which is rich in wildflowers and offers rich habitat for butterflies and bees.
THE EMOTIONAL WORK
The spaciousness of a residential weekend allows us to spend time in community, eating, sharing and talking, as well as doing our work. Besides the group processes and individual processes, there will be time for discussion and sharing, and an openness to see what magical creativity emerges during the weekend. One thing's for sure – we will all return home refreshed, revitalised and renewed.
Work On Your Emotional Wounds
Find Your True Power & Potency As A Man
Would you like to:
Find self-motivation and leadership in your life?

Be clear about your purpose and what you want from life?

Find ways to achieve your goals?

Develop clear and strong boundaries with women, children, friends and family?

Experience real joy and love more easily?

Get control of your emotions rather than having them control you?

Stop repeating the same unhelpful behaviours over and over again?

Get control over your anger?

Shed the grief of what you've lost (or never had)?

Heal emotional wounds from the past?

Embody your true masculine power?
This workshop is suitable for all men: including men new to personal development work and men experienced in "deep soul diving", and everything in between! All are welcome!
Integrate and Transform Your Shadows

Transform Old Patterns That No Longer Serve You 

Become The Man You Were Always Meant To Be!

Explore & Balance The Archetypes Of King, Warrior, Magician & Lover Within You

 Discover Your Inner Gold & Live With Joy!
Your shadows are the parts of yourself that you decided to hide, repress or deny as a child for some very good reason: to get love, acceptance, safety. Putting parts of yourself into shadow was, quite simply, an early survival mechanism.
Our residential Men's Emotional Process Work weekend gives you a way to access your full potential by bringing your hidden energies and qualities out of shadow. You can then move a lot further along the road to becoming the man you were always meant to be, before the world got in the way.
Emotional Process Work also provides the opportunity to restore the natural energy and balance in your four primary archetypes, the building blocks of who you were always meant to be as a man.
Overcome Fear & Develop Clear Thinking
Your Magician archetype enables you to see options, find solutions, be creative and take a different perspective on the situation. This is also where the part of you which kept you safe as a child lives.
Unfortunately, unless you do some emotional process work, he will continue play out those childhood patterns based on fear in your life today, long after they've stopped being useful to you. In a well-balanced psyche, your Magician should act as adviser to your Sovereign, or King, archetype.
Become the Leader in Your Own Life & A Compassionate King in Your Kingdom
Your Sovereign archetype is the source of your power, potency and presence in the world. He is the leader in your life, and he is charged with holding the "wounds" of your world, your "Kingdom" if you like.
Being strong in your Sovereign makes life easier and more joyful in every way. Unfortunately, the Sovereign archetype appears to be the one most lacking in men today. Our Emotional Process Work weekends can help you build your Sovereign energy where it is lacking.
Feel Your Feelings Healthily & Express Your Sadness, Grief and Joy
Your Lover archetype allows you to connect, feel, play, and express yourself sensuously in your body. It's where love lives, as well as the grief linked to the loss of what you've loved. Shedding the tears of your unexpressed grief will open the gateway to the joy of the Sovereign within you.
Set Healthy Boundaries, Take Action & Wake Up Your Warrior!

The Warrior within you empowers you to take action in the world, to set boundaries, to say what you want and need, and to defend what is precious to you. He is commanded by your internal King to do what is needed for the benefit of your Kingdom.
On this Men's Emotional Process Work weekend you will be able to:
Do a deep piece of personal emotional work on whatever issue you wish to deal with.

Clarify what you want to change in your life.

Deal with past events which continue to hold you back.

Remove the obstacles and self-limiting beliefs that may be sabotaging your success.

Experience the joy of being in a circle of like-minded men devoted to self development.

Take part in check-ins, teaching, sharing and group processes which will help you access the energy of these four archetypes.
Details
Timings: Friday July 5 @ 2 pm to Sunday Jul 7 @ 6 pm
This weekend is residential – all food and accommodation are provided.
Retreat Fee
Payment is on a sliding scale from £495 (lower income) to £545 (medium income) to £595 (higher income) and we invite you to place yourself on that scale where you feel comfortable. Payment can be made by instalments if you wish. This covers all food, accommodation and emotional process work with the facilitators.
Contact Rod Boothroyd by email on rpboothroyd@gmail.com
if you want a place or have any questions. But do it now. The number of places for men on this unique weekend is limited.
The Facilitators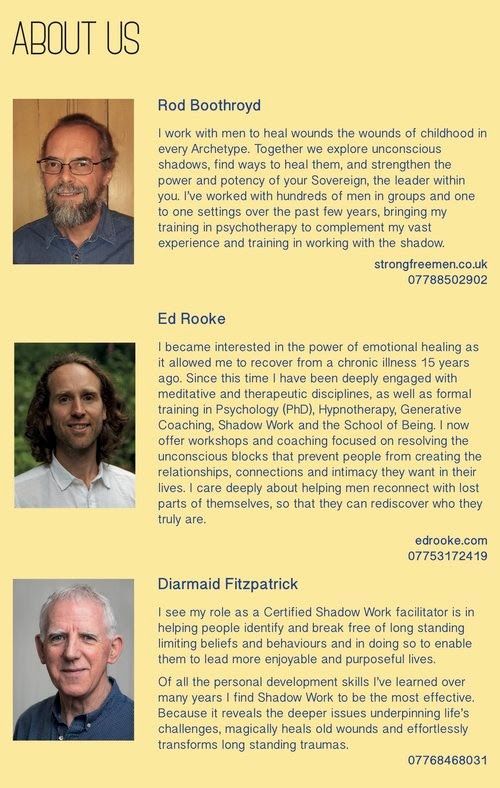 Testimonials from previous workshops
I really feel a profound change in myself. It's as if a huge weight has been lifted from my shoulders and I feel back to who I used to be. I have been waiting for the feeling to dissipate, but it hasn't and I don't think it will! I truly feel at peace with myself and the issues around my daughter, and am honestly able to trust that things will work out when the time is right. And in the meantime the universe is presenting me with new opportunities that I was blind to, or unable to acknowledge before. And I feel able to start to deal with the underlying issues that got me to that place in my life. If I can accept this, I can accept anything! Thank you so much to the facilitators, the men of service, and all you men for your support and insight. Truly life changing. – Adam
I'd like to thank you for all your hard work and facilitation over the weekend. Bless you all, the weekend workshop has helped me take huge steps on my journey that seemed so impossible just a week ago with fantastic results. I don't believe that I could have taken these steps without the leaders and the support of all of the guys at the weekend. I feel privileged and honoured to be among such great men (and you can quote me on that!) – P.G.
The weekend allowed me to open up fully and address buried emotions and blockages which had been lying stagnant for too long. The container of the group was built very quickly offering a safe, loving, supportive environment. I was very impressed with the great guidance, expertise and experience from the facilitators throughout the whole weekend. I managed to shift and release a massive dark force that I've been holding deep inside. It was amazing to physically and mentally do this process work on myself and also learn and resonate with the other men's personal work. I came away from the weekend with a feeling of accomplishment, purpose, gratefulness and love. I also gained more insight and tools to carry on with my personal vision and mission which is to help and inspire young people find their true potential in their journey ahead. – W.S.
Firstly, many thank you to you Rod, Ed, Diarmaid for running the workshop and holding that container, and for the care and compassion all you men showed which allowed me to go so deep and heal. – P.L.
Things have been good. Something shifted for me over the weekend and I feel different. Perhaps this is because I now know what I didn't before – that deep down, in my core, I am loved and I am lovable. It seems my process has done something to move or lift or unlock the part of me that was perhaps blocking this deep knowing. – S.C.
Rod, I am very grateful to you for this and to Diarmaid, Ed, and the other men who supported me in my process. But you in particular as I noticed such love and care in the work you do over the weekend. Such skill and love… it's been an honour for me to experience. – V.M.
I feel very honoured to have witnessed and been a part of your skilful facilitation and to have felt your evident love for helping men to heal themselves.  I'm already enjoying living with a somewhat changed self even in these first few days as a result of grieving for something I never fully realised I had lost. Thank you for taking the time and providing a space for this – I feel passionately about the importance of this work and I have huge admiration for those who make it possible.  D.J.
I had no idea what I was going to work on till my turn came around and then it appeared. During the process that followed I was able to let go thirty five years of pent up feelings around a significant event in my life which removed a huge burden that I had been unconsciously carrying. I only became aware later that I had also reclaimed positive beliefs of myself which unconsciously had been denying the validity of part of my life.  I viewed what happened as a deep healing and what I want to do now is to dance around my new-found self and feel confident to leave the future to unfold itself joyously! I am thrilled with the workshop and praise myself for the trust that was necessary for me to go for it!! Chris Beazley
The work you did with us over the weekend is so powerful in itself, but with the addition of your immense presence, purpose, passion, drive and compassion it is something at a completely different level. Leandro D'Andrea
When the email from Rod first landed I knew this would be a powerful and necessary weekend for me, but much of my readiness was fed by each beautiful piece of work that went before me. When I did eventually step onto the carpet I was simply floored by the depth of grief I touched into for my 5 year old self, and then blessed by the gift of heightened awareness of my own sub-personalities. Beyond this, I can't really put into words what I'm feeling and recognising, but I'm evolving, flowing. It feels healthy. I feel connected. I feel at peace, and yet open to all possibilities, going, staying, or somewhere in between. I'm definitely ready to start exploring my needs and putting me first, in a considered way. J.P.
Dear Rod, Ed and Diarmaid, thank you for a masterclass in skilful, respectful facilitation, an honour to witness. The service you individually and collectively do us, by being ready, able and willing to step into that place, is beyond any ready measure. A.H.
This weekend is profound and moving. It's almost entirely self-discovery via deep work – half through your own work on yourself, half through participation in the work of other men. It's dramatic because it's so meticulously constructed by the facilitators, who take great care to identify the critical drivers in your work – nothing ephemeral, everything core. And it's deep because the ability to meet, recognise and challenge unhelpful fragments of your archetypes is jaw-dropping. Honoured to have been a part of this circle of men.  – T.C.